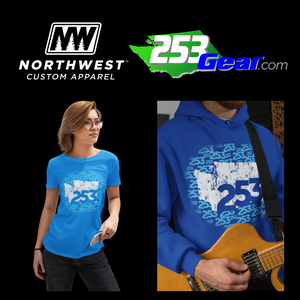 Area Code 253 T-Shirts | Tacoma, Puyallup, Milton, Fife and More
You're a proud resident of South Puget Sound and Tacoma, and what better way to showcase that pride than with an area code 253 t-shirt? These unique tees, created by Northwest Custom Apparel, are designed to represent the love and kinship we all share for our local communities. Isn't it time you wear your local pride on your sleeve – or rather, across your chest?
You might ask, what cities in Pierce County fall under the 253 area code or when did it switch to 253? We'll delve into the history and significance of our beloved area code. Plus, we'll explore other catchy slogans that could grace your next favorite tee.
Remember,
Northwest Custom Apparel,
based right here in the 253, is your go-to for these exclusive shirts. So, let's dive in and discover more about these fashionable tokens of community love.
What cities in Pierce County are in the 253 area code
Did you know that our new line of 253 area code t-shirts pays homage to many cities in Pierce County, including Tacoma? All of these cities fall within the 253 area code. We're not just talking t-shirts here. Our 253 range also includes hoodies and caps, each designed to represent the unique identity of the cities within this area code.
Think of towns like Gig Harbor, Puyallup, and Enumclaw, or places like Lakewood and University Place. All these locations share the 253 area code, and now you can show off your pride in these areas with our cool, custom apparel.
So why wait? Grab one of our 253 t-shirts, hoodies, or caps today and join us in celebrating the vibrant communities within Pierce County.
When did the area code change to 253
Back in '97, that's when the region switched to the 253 dialing digits. Prior to that, the entire Washington state was served by the 206 area code. But with the growing population and phone usage, there was a need for more numbers.
So, the state was split into multiple area codes, and Pierce County, along with parts of King and Kitsap counties, got the 253. It was a significant change, and some people still remember making the transition. It's this sense of regional identity that Northwest Custom Apparel seeks to celebrate with its area code 253 t-shirts.
So, when you wear one, you're not just sporting a shirt, you're showcasing a piece of local history. To order, simply call 1-800-851-3671.
253 printed T-Shirts Show Love for Your Community
Embracing your community pride is as simple as donning one of Northwest Custom Apparel's custom printed tees. Reflecting the spirit of South Puget Sound and Tacoma, these area code
253 t-shirts
are a celebration of your local community.
Crafted with love and precision, each tee showcases the iconic 253 area code, reminding you and those around you of the beautiful place you call home.
Wearing these tees isn't just about fashion, it's about solidarity. It's about standing tall with your neighbors, friends, and fellow residents. It's about showing love for your community.
So, why wait? Call us at 1-800-851-3671 to place an order. Let's wear our community pride on our sleeves and show the world the spirit of 253.
What other sayings for area code t-shirts
Looking for more ways to flaunt your local pride? Consider our range of custom printed tees featuring popular sayings and slogans from the South Puget Sound and Tacoma region.
We've got you covered with favorites like '253 Till I Die', 'Tacoma Tough', and 'South Sound Proud'. You can also celebrate our local landmarks with sayings like 'Mount Rainier 253' or 'Tacoma Dome Home'.
If you have a unique phrase you'd love to see on a tee, don't hesitate to let us know! We're all about capturing the spirit of our community in our designs.
So, why not join the trend? Show your love for the 253 area and make a statement with our custom tees.
Give us a call at
1-800-851-3671
today!
Northwest Custom Apparel is located in the 253 area code
Proudly based in Milton, WA, Northwest Custom Apparel's roots are deeply embedded in the vibrant 253 region. We've been crafting quality custom apparel since 1977. Our team of 15 dedicated staff members, many with years of service, share a passion for this community. They work tirelessly to ensure the satisfaction of local businesses and organizations.
We are more than just a business; we are part of the fabric of the 253 area.
We offer custom embroidery,
direct-to-garment printing
, screen printing, and have recently launched a new line of retail apparel dedicated to the South Puget Sound area and Tacoma.
If you're in the 253 and need some custom apparel, remember us. Give us a call at
1-800-851-3671
. We'd love to help you showcase your 253 pride.
Conclusion
So, show your love for the South Puget Sound area and Tacoma with the unique 253 t-shirts from Northwest Custom Apparel. They're not just stylish, they're a statement of your local pride.
Whether you're a lifelong resident or just passing through, these tees are a perfect keepsake.
Give Northwest Custom Apparel a call at 1-800-851-3671 to place your order today!
---